After tiring of the new wave of "clean, healthy, raw" eating which inevitably entails a slew of superfood recipe babies, the paragon of which would have to be the "Green Goddess Pesto", I've summoned my own voice for a pointless masculine rebuttal.  I'm not hating, I'm probably just deeply inspired yet jealous.
Check out this article for the most beautiful healthy heartbreaking enactment of the above:  https://www.foodwinetravel.com.au/food/recipes/hippie-lane-the-cookbook-green-goddess-bowl/
For this recipe, any number of green "superfood" herbs and hearty leaves are utilized along with lemon, olive oil (infused if you're next level), and a solid cup of nuts.  There are further ingredients that can add to the fattiness, acidity, and greenness if so desired for balance.  Spirulina is definitely the secret weapon here, so if you're wealthy enough to throw in that algae, do it.  It'll make your meal look like a fertile, mossy forest floor to soften your body's tread through even the most processed food ridden phases of life.  The original recipe I wrote included buckwheat tagliatelle noodles, an inspiration I got from Karen Martini's own zucchini pesto pasta recipe pictured below (with a link to the general recipe).  A French gal once told me it was the best pasta dish she ever ate in her life.  Fuck, I miss fancy-ass cookbooks and fully stocked kitchens.
https://www.eatyourbooks.com/library/recipes/1723579/tagliatelle-with-zucchini-and-basil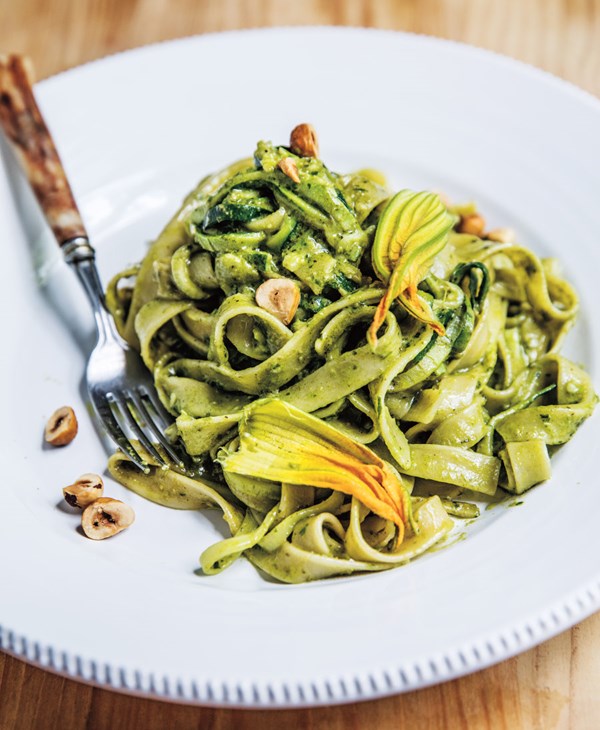 Pesto:
handful kale leaves
handful basil
handful parsley
few leaves mint
amaranth leaves, dandelion, plantain leaves, blanched
1 small lemon, zested and defleshed
4 tbsp chili-garlic rosemary infused olive oil
1 cup pumpkin and sunflower seeds soaked and dehydrated
1-2 tbsp apple cider vinegar
​(1-2 tbsp EV coconut oil, 1 tsp spirulina)
S+P
1/2 cup walnuts, soaked dehydrated salted (soaked several hours/overnight, baked as low temperature and long as you can manage (up to 12 hours)
2-3 zucchini, sliced into as thin strips as possible
1 capsicum, sliced into thin short strips
1. Pound/blend lemon zest w/ salt,
– add flesh, oil, and greens, black pepper, pound to paste
– add seeds, pound coarsely
2. Heat infused oil to sauté capsicum until soft about 5 min
3. Blanch zucchini for 1-2 min, or soften with salt for half an hour in a bowl
– zucchini should be soft and wavy
4. Drain zucchini, mix w/ clump of pesto to coat
– add walnut pieces, capsicum strips, olive oil if desired, S+P
Pasta (optional, potentially constipating):
1 cup buckwheat flour
1/2 cup rice flour (GF less dense flour)
1 tbsp tapioca starch
1 tbsp chia or flax seeds, ground w/ tbsp water
S+P
Combine flours w/ salt, add water and chia seeds
– mix until uniformly moist, not sticky
– roll out as flat as possible on flat, oiled surface with roller
– slice into 1 cm wide, 5ish cm long tagliatelles
Bring lightly salted water to boil in pot, cook tagliatelles about 4 min until no longer doughy in center
Enjoy, much love!